I've been constantly baffled at my inability to find this book anywhere – not bookstores, not libraries . . . I mean, it is amazing! If you've been reading my blog for any amount of time, you'll know that that book made a big impact on me! So, I'm just going to repost my review here, so if you've been following me, you've already seen this. If not – you need to read this book!!
Can a dwelling place without books ever truly be a home? -Island of the World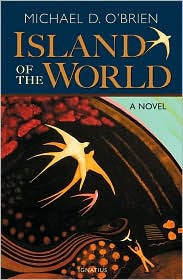 I'm not sure I can actually review this book and do it justice. I guess briefly I would say that this book is AMAZING. I cannot recommend it highly enough. And at the same time, it is one of the saddest books I have ever read.
Written in the glory of the cosmos is both a promise of joy and a promise of sorrow. Beyond them and through them is the promise of final victory. He can feel hope now, a sense that even sorrows may become part of the coming victory.
The Island of the World
 is a significantly long book, and I usually take quite a while to get through a book as it is (if I'm in the middle of traveling, spending time with family, and trying to complete a hundred projects in the meantime.) I would say that this book took me roughly a month to read. I know that seems like a really long time, but it is over 800 pages, and I believe the book will be more enjoyable if you take time to think through it and digest it and let it really saturate your thinking. Okay, enough of that, what's it actually about?
Culture is the last refuge, the sanctuary, the human place in the midst of the surrounding dehumanization. Through the arts man is able to know himself, even if only on the intuitive level. He senses his own worth, even when he cannot articulate it. -Island of the World
Well, this book is for anyone that enjoys the ups and downs of life, history, philosophy, poetry, or people. This book will make you laugh, cry, ponder, and get lost in the depths of an amazing story. The story follows the life of Josip, a boy who grew up in Croatia during the time of World War II. The atrocities of war that Josip endures, the sweetness of love that he experiences, the heartbreaks he finds as he travels throughout the world can't help but grip your heart and make you feel as though you are living through each joy and sorrow right next to Josip. There were times that I wanted to just sit and cry, and others where I wanted to shout in excitement. By the end of the book, I felt that not only Josip, but I myself had lived a lifetime and had experienced all that was meant for me to experience. Read this book. You will not be disappointed.
Without the eternal, all things, all beings, are devalued.

Can beauty be beauty without overt truth?

To speak the truth, even if few are listening, can achieve much. It preserves the truth and the spirit of the people for a coming generation.

How else do we know God's rescue unless we have been drowning? Can healing be demonstrated without injury, or love be proven without trial?

Just like legs, poetic imagination needs daily exercise.

Remember it, but do not condemn, for we are all sons of Adam. Remember, lest the past become present again.

Life itself is the great surprise, and all that is within it is an unpacking of subsidiary wonders.

Yet it seems to me now that even such terrible absences can become a blessing if we do not lose heart, if we keep swimming in the many waters of God's grace, if we give him time, if we permit a little space for his mercy.

Be not a slave to the apparent, but seek the perspective of a higher vantage point. Climb the mast with patience, endure the abstinence of the immediate for the sake of what is beyond the arc.

. . . let us dream [. . .] and not call dreaming folly. For if we fail to dream, all will fall into disremembrance and neglect, and the fires that shape the world, which are the heart of the world, will grow cold and the splendid art of existence will become a solitary's prison cell.
{read summer 2011}