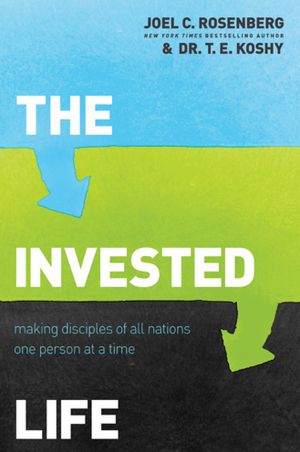 I just finished reading The Invested Life: Making Disciples of All Nations One Person at a Time
 by Joel Rosenberg and Dr. T. E. Koshy this morning. It was an extremely helpful and thought-provoking book. It was obvious through the testimonies shared in the book that both Rosenberg and Koshy are highly qualified to write a book on discipleship as they have been both the discipled and the disciplers at different points of their lives.
"Who is investing in you? and Who are you investing in?" These are the two questions that Rosenberg and Koshy center their book around. Using biblical principles, these men outline in this book what a discipling relationship should look like. They believe that it is the prerogative of every Christian to be actively engaged in discipleship. They believe this because this is the pattern that Jesus and other New Testament believers followed as well as the directive that Christ left us with before He ascended into heaven,
"Go therefore and make disciples of all nations, baptizing them inthe name of the Father and of the Son and of the Holy Spirit, teaching them to observe all that I have commanded you. And behold, I am with you always, to the end of the age." – Matthew 28:19-20
Once Rosenberg and Koshy made their case for the importance of discipleship in the Christians life, they proceed to give very practical and helpful advice for how to both seek out someone to disciple you, as well as how to begin discipling others. The book reads as a manual for any Christian who is ready to begin obeying the part of the Great Commission that commands us to be a part of the disciple-making process. Interwoven in the directives of disciple-making are testimonies of the authors and their friends and families who have been involved in discipleship. The real-life stories give credence and life to the advice and promptings given in the book.
I would not say that this is an emotionally gripping book. Rather, it is very factual, Biblical, and motivating towards discipleship relationships.  If you read this book willing to learn from it, you are going to leave feeling the need to be more involved in the lives of your fellow believers.
I would definitely recommend this book, but only if you are committed to changing where you see a need to change. If you have been looking for an opportunity to be involved in discipleship, or have been looking for ideas regarding how to disciple someone, this book will be a great asset for you. However, you should not read this book if you are not willing to step outside of your comfort zone and get involved in the process of discipleship.
We have been put here on earth for a reason, and we have been chosen to be a part of this Christian community for a reason. God did not intend for us to "go it alone." Not only did He leave us the Spirit to guide us, but He has also given us a host of fellow Christians with whom we can, and should be ministering, fellowshipping, and growing . . . that is, we need to be involved in discipling and being discipled.
————-
I received this book for free from Tyndale House Publishers for the purpose of reviewing. All thoughts and opinions are my own.
{read summer 2012}