Abandonment.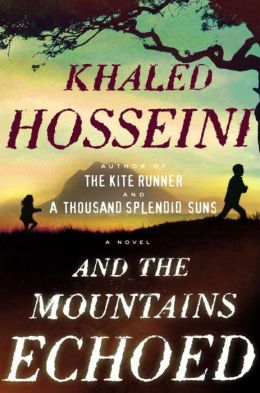 That was the one word that kept running through my mind as I read And the Mountains Echoed: A Novel
 by Khaled Hosseini. I knew from the first chapter that it was going to be heartbreaking, and I was right. But not only was it just heartbreaking, it was heartbreaking over . . . and over . . . and over.
And the Mountains Echoed is a book that delves into the lives of various characters all somehow linked to Afghanistan in some way or another, and when you stop and think about it, all intrinsically connected to each other. I was confused during the first switch . . . when I was just wondering how Hosseini intended to fix the horribly sad situation that he had led me to, he suddenly changed times and characters and places, jolting me out of my curiosity and sending me down a new story line.
From being sold, to being left behind in life, to being forgotten due to disease, it seemed each character in the story experienced an abandonment of their own. Each were hurt by someone else's selfishness. And yet, their lives would have been completely different had things gone "according to plan." I kept trying to figure out what it was that Hosseini was trying to communicate throughout the book, and it wasn't until the very end that I saw it.
Through all the instances of sorrow and heartbreak and abandonment, the characters had the choice to view the loss of someone as absence or a presence. The one who was not there could either be there in spirit, or gone completely, and the way that you choose to see it makes a difference in how you process the pain or confusion that accompanies abandonment. Also, as we continue on, the instances that we would have avoided if it were up to us, have immense implications on the rest of our lives. There are slight echoes of the fact that maybe Someone greater and bigger is writing our story and actually knows what is best, even if we disagree.
I did really enjoy this book. There are a few instances of mature content, and a couple of chapters that include strong language, but overall, it is a beautifully and well written story. I would recommend it, especially if you like cultural literature (as you can tell I do if you check out my reviews page!!), but it is not a family book.
If you've read it, I'd be really interested to hear your thoughts on this book! What main themes jumped out to you? Were you struck with the idea of abandonment as I was? Let me know in the comments!!
{Finished February 4, 2014}