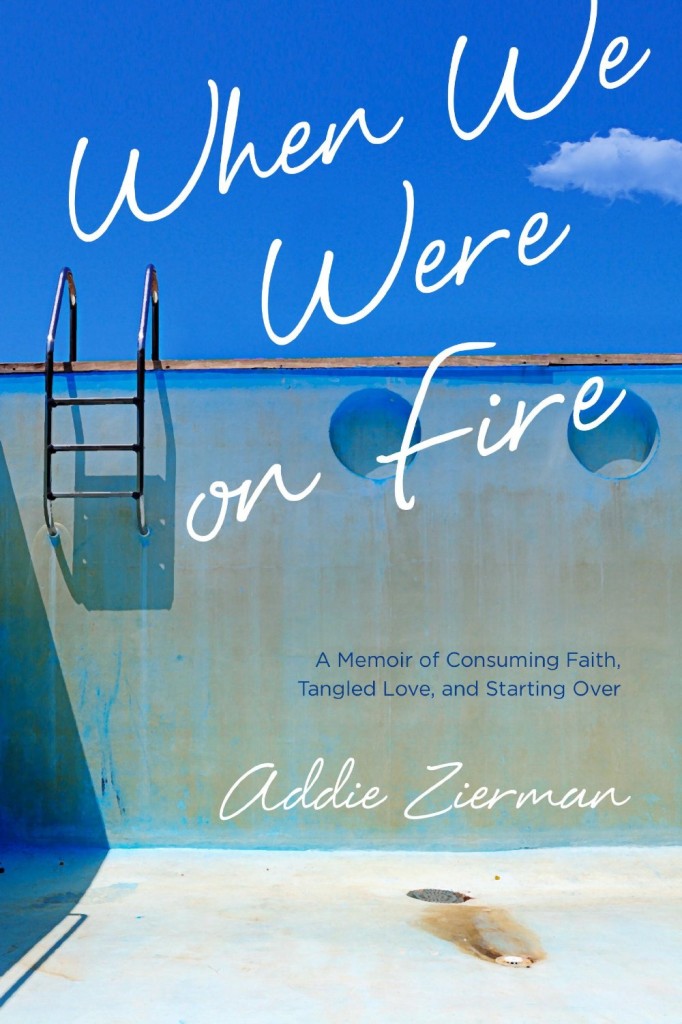 Addie grew up in the evangelical culture in Illinois. A culture where she was defined by WWJD bracelets, fish stickers, See Ya At the Pole events, and crushes on missionary boys. When We Were on Fire
 is Addie Zierman's candid story of her journey with faith.
The book is divided neatly into the headings, "Obsession," "Disillusion," "Rebellion," and "Redemption." Divided neatly, though Addie's life was not quite neat when it came to faith. As a teenager, Addie found her identity and value in what she did as Christian. Going on a Teen Mania missions trip, standing alone in the rain at the flagpole, leading Bible studies with close friends – though she would never have admitted she was earning salvation, these things mattered. A lot. But eventually, she realized that doing all of those things did not mean she wasn't going to experience heartbreak or hurt or confusion.
Once Addie's heart was hurt deeply enough, she found herself slightly embittered and rather skeptical of the Christian culture, and in particular of "church people." Try as she might to get them to notice the hurt she was wading through, and the needs she had, no one seemed to see her or the pain she held in. She felt as though love, in its true essence was sadly absent in the one place where it should be most present. Giving up on the people who were supposed to be there for her but fell astoundingly short, Addie ended up turning to answers from other places. She let drunkenness buoy her in the dark nights and weekends away with sharp-tongued friends act as a salve for her angry heart.
It wasn't until she welcomed a son into the world that she began to see hope again. Realizing that Christianity did not offer a once and done transition to perfection, but that we are all rather a work in progress, constantly changing and growing into something more aware. As she ends,
Your life after Christ is not static or an end result. You are not suspended in grace above the fray of life. You are looking at God through a kaleidoscope. Your life moves, and the beads shift, and something new emerges. You are defining. Redefining. Figuring it out all over again.
I found this book really challenging in my own life. This was partly because, though my life is not a mirror image of Addie's, I found a lot of her struggles and questions resonating with things I have struggled with in my own life. Her story is captivating with a voice that is honest, funny, and thought-provoking. Though it was not always enjoyable to encounter, it was healthy for me to see from someone else's perspective some of what I have noticed in myself.
However, by way of critique, I have a few comments. First of all, though I found this book really helpful in addressing some of my own thought processes and questions, I felt that it was missing the Cross in a sad way. Ultimately, I think this is what Addie was getting to, but it was sadly absent in the real discourse of the book. Secondly, in Addie's darker days, she takes to drinking and swearing, quite a bit. In all of my reviews, I like to alert readers to any components that they may find problematic, and this book does contain a decent amount of swearing. So, please keep that in mind as you consider it.
I would recommend this to anyone who, growing up in the culture of Christianity, found themselves struggling to figure out how to live their faith in the hard realities of life, and who has come through days of being defined by the culture of Christianity rather than the Christ of Christianity. This is not a book of answers, it is a memoir that will challenge your own thinking and push you to find answers for yourself.
I'd love to hear your thoughts if you have read this book, or let me know if you hope to read it and why! Click here to read a sample chapter.
————-
I received this book for free from Blogging for Books for this review. All thoughts and opinions are my own.